Enter by donation for a chance for a great gift
GIFTING DEADLINE SUBMISSION IS OVER : March 13th 4 PM (pdt).
Congratulations to those who were gifted! 
Proceeds raised are gifted to the Rotray Club of Merritt and dispersed to participating fire and/or flood relief non-profits in the communities devastated by the BC forest fires and floods. #hellorhighwaterbc.  
Donate Once, Twice, Three Times a Lady…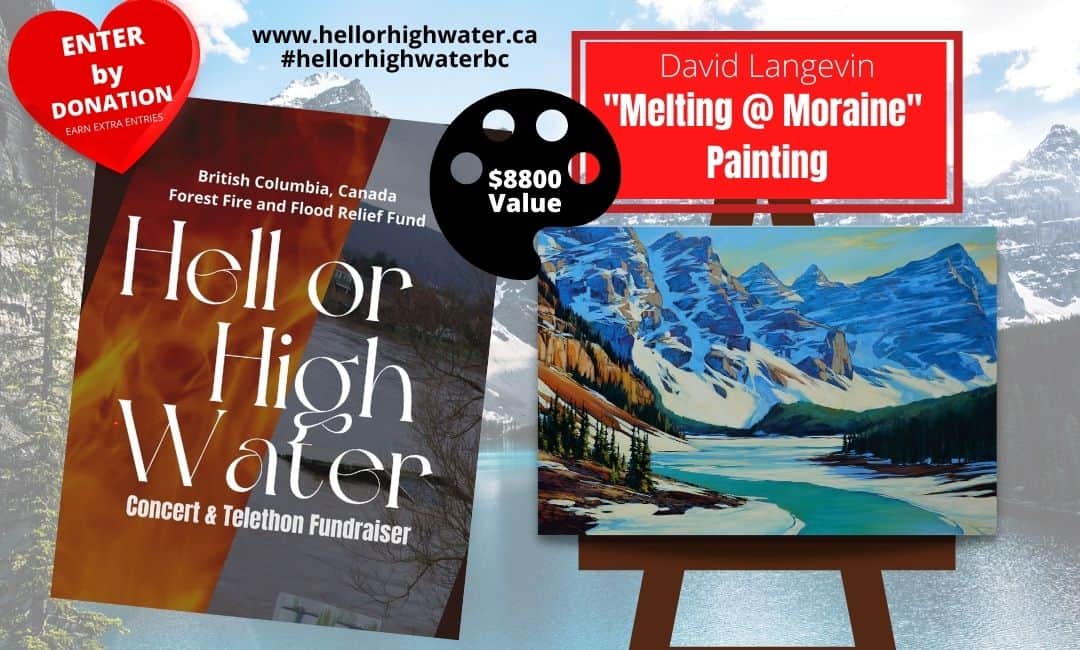 A 48×60″, ACRYLIC PAINTING TITLED "WARMING @ MORAINE", BY WELL KNOWN ARTISTS DAVID LANGEVIN
Get gifted a 48×60″, acrylic painting titled "Warming @ Moraine", by well known Canadian artist David Langevin. 
WINNER
Karen Klassen
Kamloops, BC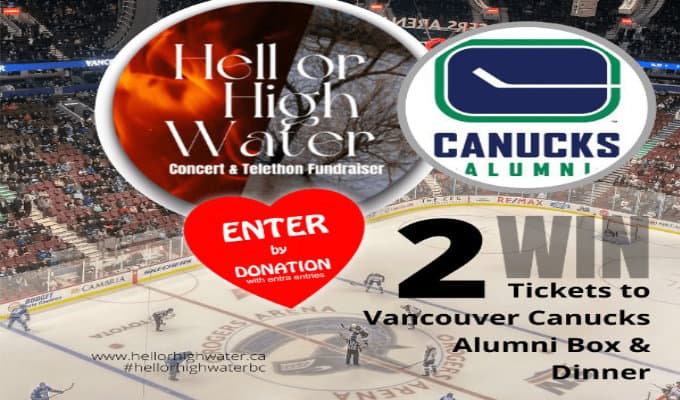 2 TICKETS TO VANCOUVER CANUCK GAME – ALUMNI BOX & DINNER 
Get gifted 2 tickets to a Vancouver Canucks game in 2022, a dinner with your host, former Vancouver Canuck, Greg Adams and Founder of the Rockin' River Music Fest, Kenny Hess.
WINNER
Shelley Cressy-Hassel
Merritt, BC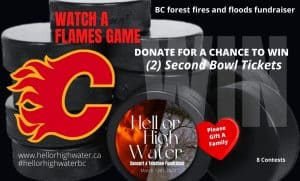 (2) SECOND BOWL TICKETS TO CALGARY FLAMES GAME
Donate for a chance to be gifted (2) second bowl tickets to a Calgary Flames game during the 2021-22 Regular Season at the Scotiabank Saddledome in Calgary, Alberta Canada.
WINNER
Joanne Street
Merritt, BC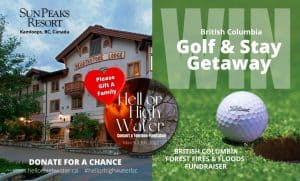 A GOLF & STAY GETAWAY AT SUN PEAKS IN KAMLOOPS BC
Golfing adventure for 2 at the Sun Peaks Resort Golf Course includes two nights  at the Hearthstone Lodge, $100.00 Gift Certificate for Powder Hounds Restaurant. 
WINNER
Brenda McFarlane
Abbotsford, BC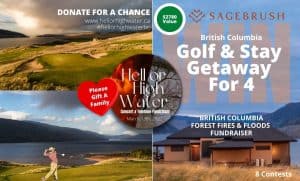 A GOLF & STAY GETAWAY FOR 4 AT THE SAGEBRUSH GOLF COURSE
Golfing adventure for 4 at the Sagebrush Golf Course in Kamloops. Two days of golfing and one night stay at one of North America's most unique golfing experiences.  
WINNER
Virginia Harper
Abbotsford, BC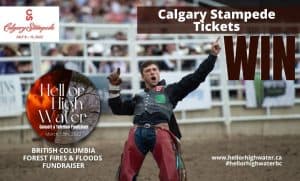 (4) CALGARY STAMPEDE RODEO TICKETS
Four (4) Calgary Stampede Rodeo Tickets to the July 8, 2022 rodeo performance, as well as a Chute Tour experience. And then what you do with the rest of your visit while exploring in Calgary Alberta is up to you.
WINNER
Kathleen Danielson
Logan Lake, BC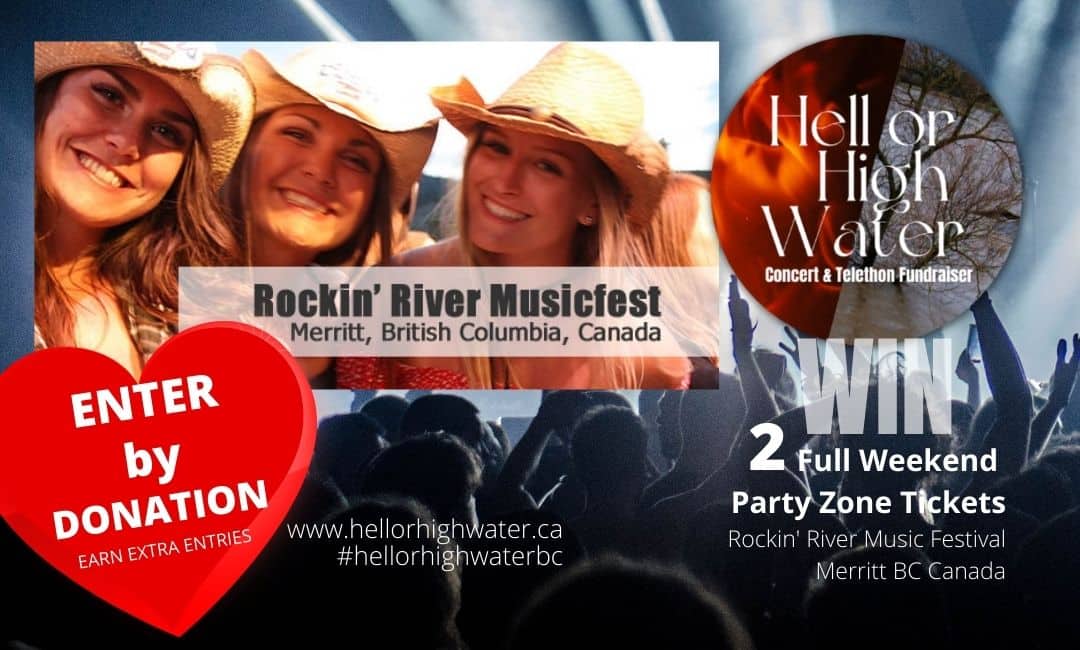 2 ROCKIN' RIVER MUSIC FESTIVAL TICKETS
Get gifted 2 Party Zone Tickets for the full weekend at the upcoming Rockin' River Music Festival from July 28th to July 31st 2022 in Merritt BC Canada and loungin' around in the Coldwater River.  
WINNER
Elizabeth Wesley
Abbotsford, BC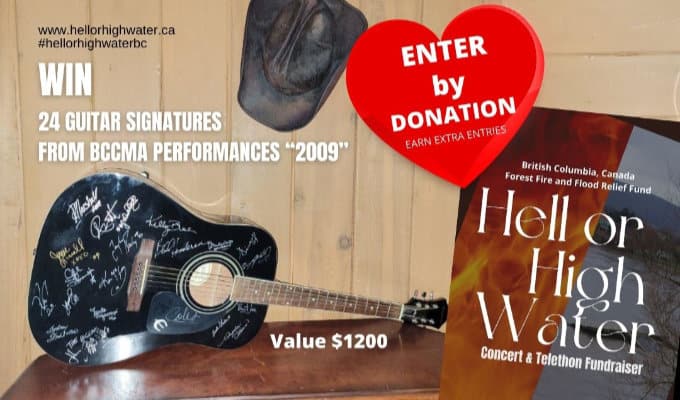 24 GUITAR SIGNATURES FROM BCCMA PERFORMANCES "2009"
This is one great Canadian collectors item with 24 signatures from musicians artists like Aaron Pritchett, Loverboy, Karen Lee Batten & more. Gifted to us by the BCCMA.
WINNER
Susette Jones
Abbotsford, BC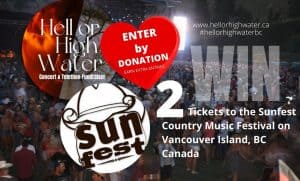 2 SUNFEST PIT PASS MUSIC FESTIVAL TICKETS
2 Stage Pit Weekend Pass Tickets to the Sunfest Music Festival at Laketown Ranch on Vancouver Island, BC, Canada from July 28th to 31st, 2022. Buckle in for a weekend of music.
WINNER
Tyler Stewart
Merritt, BC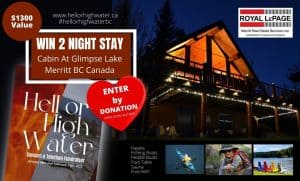 A 2 NIGHT STAY AT THE LAKESIDE CABIN AT GLIMPSE LAKE IN BC, CANADA.
2 Night Stay at the Lakeside Cabin at Glimpse Lake in Merritt BC, Canada. Includes 3 bedrooms and 2 baths and lots of open space. Donated by Royal LePage Merritt Real Estate Services Ltd.
WINNER
Susan Anderson
Savona, BC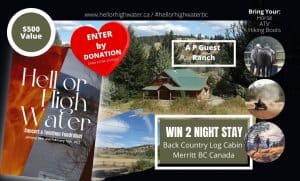 A 2 NIGHT STAY IN A BACK COUNTRY LOG CABIN MERRITT BC
2 night stay in a back country log cabin surrounded by B.C.'s ranching country, surrounded by impressive fishing lakes and thousands of acres of rolling terrain. Thank you for gifting us this retreat A P Guest Ranch. 
WINNER
Monet Nielsen
Merritt, BC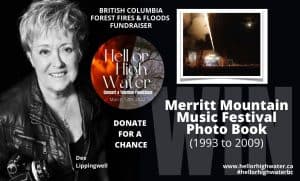 MERRITT MOUNTAIN MUSIC FESTIVAL PHOTO BOOK (1993 to 2009)
Memories from the Mountain is an autographed photo book documentary of the Merritt Mountain Music Festival from 1993 to 2009 by popular music photographer Dee Lippingwell. Time before the Rockin' River Festival.
WINNER
Charmaine Roe
Mission BC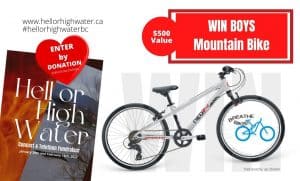 WIN A NEO 24 MOUNTAIN BIKE FOR BOYS
New mountain bike donated by Breathe Bikes in Merritt BC Canada. The NEO 24 is suitable for boys aged 7 to 10+ years old.  The low height helps rider confidence for kids to touch the ground when need to.
WINNER
Jolene Bose
Langley, BC