Donate and enter for a chance to win a gift
#hellorhighwaterbc
www.hellorhighwater.ca
Select Contest & Donate To Enter 
Enter a "Contest by Donation" rewards you with 3 entries and an opportunity to play for extra entries increasing your odds of winning!
Proceeds raised go to to the local Rotaries and dispersed to the communities and families devastated by the BC forest fires and floods. #hellorhighwaterbc. Donate today!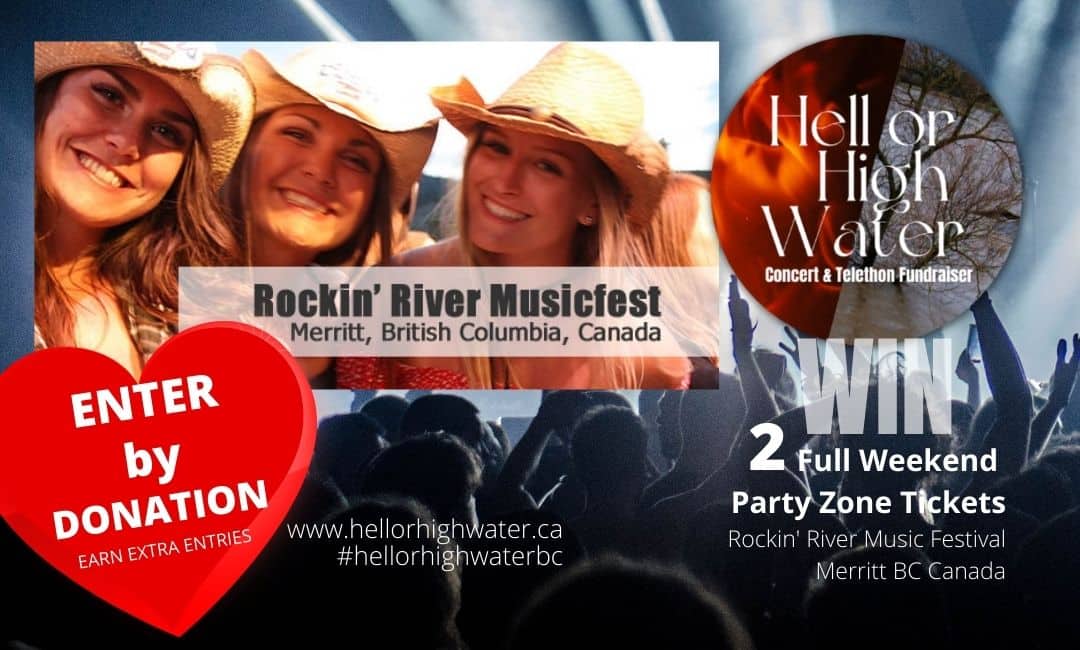 WIN 2 ROCKIN' RIVER MUSIC FESTIVAL TICKETS
Win 2 Party Zone Tickets for the full weekend at the upcoming Rockin' River Music Festival from July 28th to July 31st 2022 in Merritt BC Canada. Every summer thousands of country fans converge on the Nicola Valley for a weekend of music, games and loungin' around in the Coldwater River. 2022 welcomes back the Rockin River Music Festival and we want  you to go.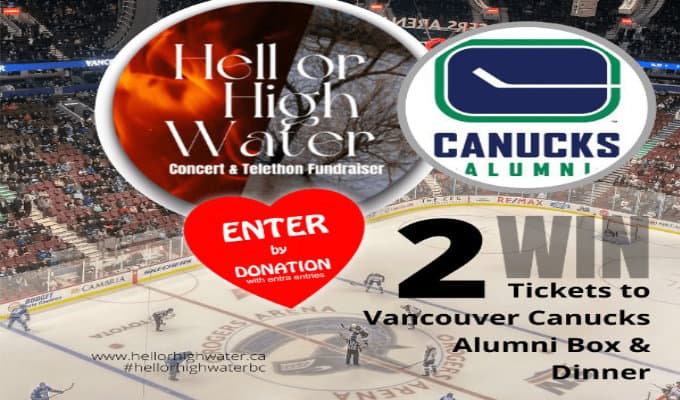 WIN 2 TICKETS TO VANCOUVER CANUCK GAME – ALUMNI BOX & DINNER 
Win 2 tickets to a Vancouver Canucks game in 2022. It gets better. You and a guest have the luxury of enjoying a dinner and the game from the Vancouver Canucks Alumni Box with your host, former Vancouver Canuck, Greg Adams and Founder of the Rockin' River Music Fest, Kenny Hess.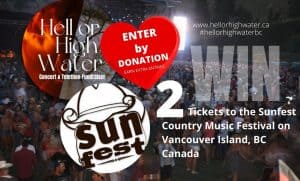 WIN 2 SUNFEST PIT PASS MUSIC FESTIVAL TICKETS
Win 2 Stage Pit Weekend Pass Tickets to the Sunfest Music Festival at Laketown Ranch on Vancouver Island, BC, Canada from July 28th to 31st, 2022. These are limited tickets so winning is that much better. Want to get as close as possible to the artist? Then the Stage Pit is the place for you! Enjoy the closest view of the stage! Standing room only!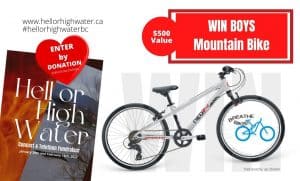 WIN a NEO 24 Mountain Bike For Boys
Win a new mountain bike donated by Breathe Bikes in Merritt BC Canada. The NEO 24 is suitable for boys aged 7 to 10+ years old. The multi-speed bike comes with a Shimano gears, semi-slick micro-knobby tires, rim brakes and built with light wieght kid size components. The low height helps rider confidence for kids to touch the ground when need to.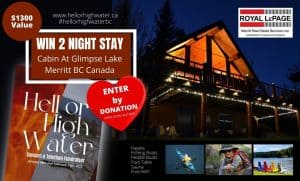 WIN a 2 Night Stay at the Lakeside Cabin at Glimpse Lake in BC, Canada.
WIN a 2 Night Stay at the Lakeside Cabin at Glimpse Lake in Merritt BC, Canada. This beautiful lakefront cottage includes 3 bedrooms and 2 baths and lots of open space. Two fishing boats with electric motors, peddle boats, kayaks, and a fire pit for those calm evenings. Inside, you can enjoy a sauna, billiards table, board games, Wifi, satellite television, Sirius radio & more. This place is Heaven on Earth if you love the outdoors. Based on availability. Donated by Royal LePage Merritt Real Estate Services Ltd. Value: $1300.00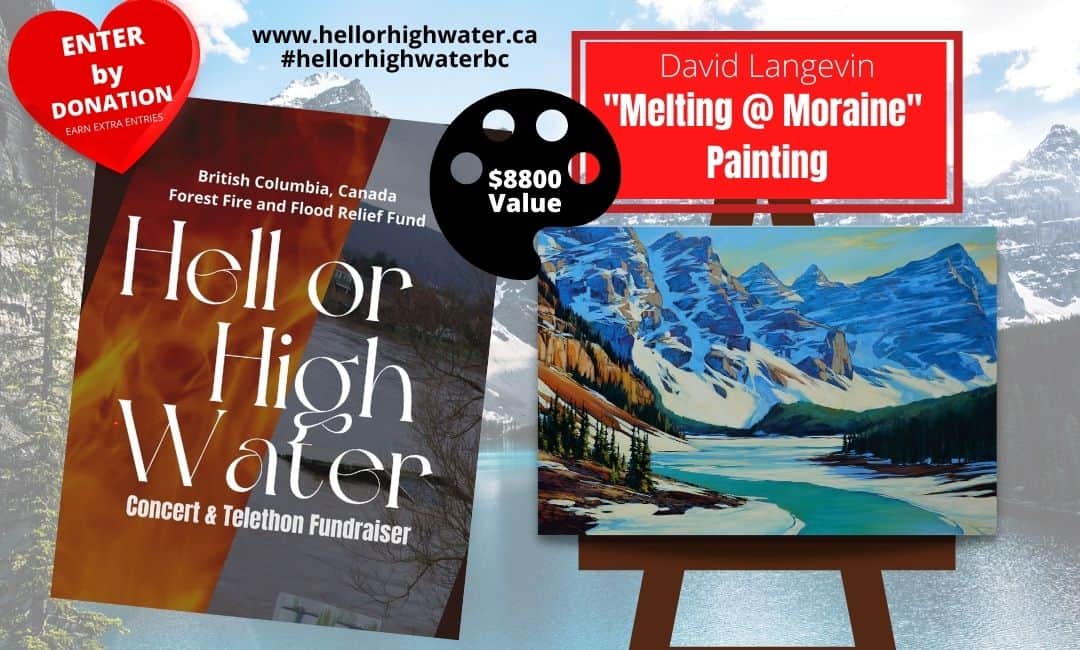 WIN a 48×60″, acrylic painting titled "Melting @ Moraine", by well known Canadian artist David Langevin
WIN a 48×60″, acrylic painting titled "Melting @ Moraine", by well known Canadian artist David Langevin. David is a modern day Old Master – an impeccable craftsman, an innate talent. David's dramatic renditions of the Canadian wilderness and his bold 'tree portraits' have become almost as familiar as the subject they depict. His paintings are sold in galleries across Canada and has inspired many nature lovers, artists, and of course, collectors. Value: $8800.00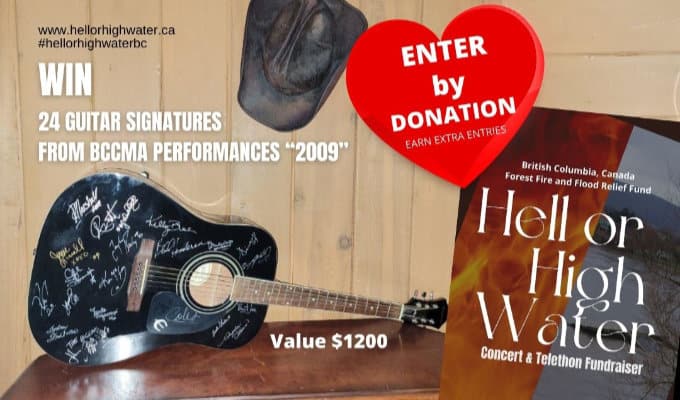 WIN 24 Guitar Signatures from BCCMA Performances "2009"
This is one great Canadian collectors item with signatures from Brent Lee, Aaron Pritchett, Mike Reno – Loverboy, Karen Lee Batten, Crystal Shawanda, Jake Stoltz, Damian Marshall, Chad Brownlee, Fera – Courtney and Stephanie, Jesse Farrell, Bill Henderson – Chilliwack, Todd Richard, Sandra Latta, Kelly Brock, David Wills – Stonebolt, Cole Armour, AJ Woodworth, Emily Adams, Jordan Doell, Angela Harris, Ken McCoy, Ginette Genereux, The Higgins and Jaydee Bixby. Value: $1200.00
Check back regularly as we are adding more contest prizing every week.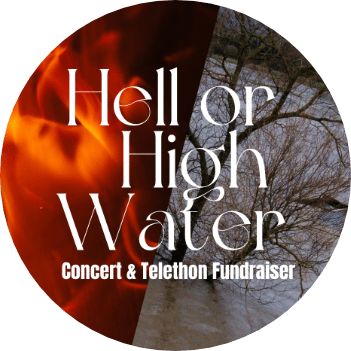 All proceeds collected, including those made online and through the telethon portion of the event, will go directly to Rotary Merritt who will then work with Rotaries throughout the affected areas to disperse the funds to communities and individuals affected by the natural disasters. Sponsorships of the Live Concert may be partially used to support the event with the rest going directly to Rotary Merritt for dispersal to those in need. #hellorhighwaterbc. 
Contest Draw Date: March 13th
Enter Contests by Donation for as little as $10. People like you are donating and making a difference helping the BC fire and flood communities and families. Follow the instructions closely and with your donation you will receive 3 entries for a chance to win. Make sure to activate your 3 entries near the end of the donation process.  And if you do, you can play for extra entries increasing your odds.
Event prizing is for 2022, however, if event is postponed, cancelled or rescheduled because of Covid your prize will be honoured in 2023 or 2024 as Covid Protocols dictate.
Covid Update: The shows will go on! However, we may, at anytime, have to adjust the dates for the concert, telethon and prizing due to the ongoing and changing Covid protocols. 
Select a Contest
Select a contest and donate to enter. Each donation is 3 entries.  Proceeds go to the Hell or High Water Fundraiser for the fire and flood victims of British Columbia, Canada.
Activate Extra Entries
Once your donation has been processed you can earn extra entries. Yes! More chances to win! Follow the links for earning extra entries.  Good Luck!
Check Back Soon
Winners announced on February 10th, 2022, as well as, on the Hell or High Water Telethon going live on websites and social media on February 13th, 2022.